I'm safely back in the comfort of my room!
It wasn't as bad I had imagined it to be...and we got to see the Red Shirts' protest live.
I was quite amused by this big panel advertisment for a beauty clinic at the street corner of my hotel.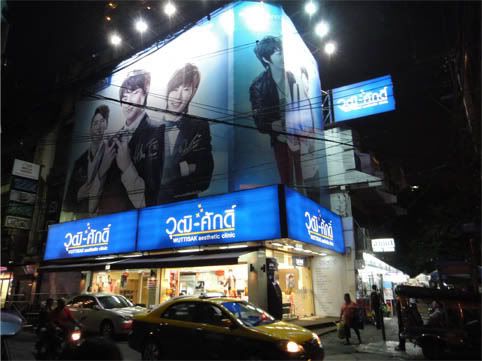 I recognised Kim Joon right away. But the other 2? Are they from Tmax? *shrugs*
I think kpop is very big in Thailand. I see endorsements by K artistes (official or unofficial) everywhere. When I go to shopping malls, I hear korean songs broadcasted through the sound system. And on the second day, I came across this road show selling tv sets.And yes, Korean PVs were playing (thank god no Nobody!) - Shinee and SuJu. A small group of girls gathered behind me and one even took out a Siwon uchiwa (lol she carries it everywhere?).
Not much Jpop, but on my final day, I did spot this lady, dressed in office wear, carrying a backpack with a certain Johnny boy's photo keychain hanging from the bag.
And guess who the boy is?
My darling junjun!
Oh, shopping was really cheap there. But the most no-value-for-money (it costed a total of 300 plus baht) were these.

But I
had
to buy them.